Dental implants are artificial tooth roots that are inserted into the jawbone,replace damaged and decayed teeth to replace one or more missing teeth. Dental implants may also be used to anchor a loose fitting denture securely into place.
Properly maintained implants, which are anchored by sufficient bone, can last for many years.
The other advantages of dental implants include:
Prevention of bone loss
Prevention of gum recession
Comfort
Improved appearance
Improved function (chewing and speech)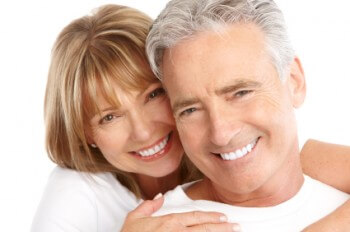 All on 4 dental implants are used to secure dentures.
Their most common application in our practice is to stabilise and secure a lower full denture but can be also used to make a "palateless" full upper denture allowing the patient to taste their food properly. This literally does change a patient's life enabling them to eat a wider variety of foods with confidence that the denture will stay in position.
The procedure is less costly relative to traditional implant placement because it is less invasive with a shorter time span to completion. Of all the treatments we provide this one routinely generates the comment " I wish I had done this years earlier!"
HBF- We are a registered Participating Provider by HBF. You can receive a fully covered scal and clean per member per calendar year, depending on the level of your Essential cover held. For all other dental services you can receive up to 90% benefit, also depending on the level of your Essential cover.HCF – We participate in HCF's 'More for Teeth' program, providing no-gap preventative and diagnostic benefits to eligible members.
For further information on dental implants or to book a consultation contact us today at The Armadale Dental Centre, by calling us on 08 9497 9700 or by using the contact form..